New Arrivals! Vtek TM-500 Tape And Reel Packaging Machine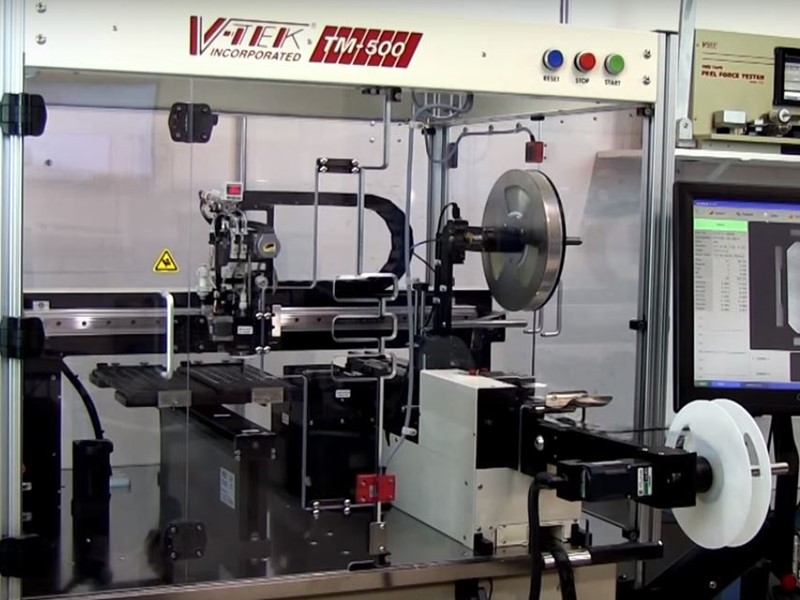 We are excited to increase our automated Tape and Reel capabilities!
The TM-500 is a Vtek tape and reel machine with a multiple input pick-and-place, test, inspection and taping machine designed for high mix-low volume production environments. The flexibility of multiple inputs reduces the need for additional machines, simplifying and speeding set up and operations to deliver a fast return on investment. Options for testing, inspection, as well as 2D and 3D vision systems provide maximum flexibility, reporting and traceability functions. This tape and reel packaging machine offers a touch screen interface minimizes set up and operator intervention for fast and easy functioning.
Features & Benefits
Automated component handler with tray, tube, bowl or tape input options
Reject to tray or bulk of bin sort
Industrial PC with touch screen operator interface

Job configuration
Manual /

Automatic tape and reel packaging machine

/ trailer
Lot reporting
Vision inspection display and results reporting
Password protection
Single window interface combines vision and job programming

Taping module

Universal adjustable heat and PSA sealer
Empty pocket detection
Jam in track detection
Low cover/carrier tape detection
Carrier motion