How ProEx is Your One-Stop-Shop for Device Programming Services
Device programming is a complex, multi-phase process in which written software is flashed onto a programmable device. While you could hire staff and purchase expensive equipment that allows you to do this in-house, outsourcing the programming to leaders in the industry like ProEx, can streamline the process for you, and get your product into your users' hands faster. 
Discover how ProEx is your one-stop shop for device programming services.
Device Programming Services: Overview
We've come a long way since the first integrated circuit (IC) was invented over half a century ago. Today, devices from pacemakers to space plane engines use programmed computer chips to function. 
What Is IC Device Programming?
IC device programming updates the operating instructions on an IC chip through flashing. This updates the hardware's response to different inputs so it's compatible with new software. Programming can also make a device's hardware compatible with new input devices, like scanners.
Engineers also use IC programming to encode instructions for the first time.  
What Industries Do We Serve?
At ProEx, we work with all industries including; automotive, consumer electronics, medical, industrial, aerospace, and more!
Why You Should Outsource Your Programming
Outsourcing your programming removes the complexity and time burden of programming during an in-circuit test. Outsourcing your semiconductor programming allows the chips to be received pre-programmed, streamlines the manufacturing process, and saves you time and money. It also removes the hefty upfront costs of programming machinery and ongoing maintenance.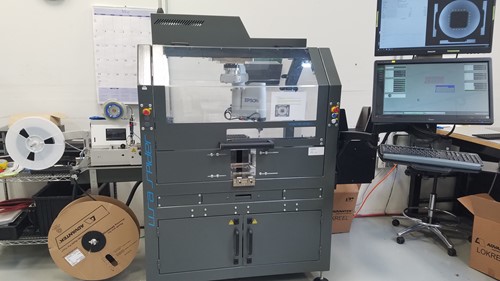 Why You Should Partner with ProEx
Partnering with ProEx allows you to reduce costs, increase capacity, and improve overall efficiency in your manufacturing process. Here's how:
1. Capital Equipment, Personnel, and Repair Expenditures
Our state-of-the-art programming equipment allows us to always be on the leading edge of programming support. Benefit from our capital investment in costly programming equipment so you can conserve resources for other areas of your business. 
We also help you with a new socket and algorithm development. Now, more than ever, due to the complexity and package size of devices being released, it is necessary to have support developed for a specific manufacturer part number. The development of these NREs can sometimes exceed $10,000! Furthermore, sockets need to be specialized to meet the requirements of each semiconductor family and package type. Socket module costs can range from $500 to $3000 per socket. 
We help you keep your staffing costs down, conserve building space, and conserve resources.
2. Wide-Range Device Support
With our multiple device programming platforms, we're able to offer an unsurpassed number of supported manufacturer part numbers. Currently, our library maintains thousands of socket modules!
3. Quality
Here at ProEx, we've developed a proven process as part of our quality system that ensures the highest quality performance. We are ISO 9001:2015 Certified, ITAR Registered and secured IT protection of customer data. With our mix of programming equipment and highly trained personnel, we can maximize throughput and provide the best turnaround times in our industry.
4. Industry Expertise
Benefit from our decades of specialized experience in the programming industry! At ProEx, we have strategic vendor relationships in the programming industry and can pass on these benefits to you. 
5. Responsiveness
Minimize the impact of inconsistencies in your manufacturing workload by hiring ProEx! Our offline programming prevents the bottleneck in manufacturing that occurs in in-circuit programming. The prevention of bottlenecking is helpful given the current industry environment of sourcing semiconductors. With ProEx as your centralized programming provider, you can source parts from wherever they can be found and send them to us for programming. 
We also offer the reworking and reprogramming of previously programmed parts as part of our services. We process these types of orders daily! If a customer has a change to their program code or can only source parts that have been previously programmed, we can help. 
Key Takeaways:
IC device programming

updates the operating instructions on an IC chip through flashing.

Partner with ProEx for device programming services and receive capital investments, device support, quality, industry expertise, and responsiveness.
ProEx: Your One-Stop Shop to Program Devices
Device programming, when outsourced, is streamlined to make your job simpler. With our one-stop shop device programming services, you can get your devices into users' hands faster than ever before. Choose automated offline IC device programming services from the experts at ProEx. We can't wait to work with you. Give us a call today!