ProEx Is Exhibiting at the IPC APEX Expo 2023
Did you know that well over 300 exhibitors have already signed up to attend IPC APEX Expo? This essential fixture on the global electronics manufacturing calendar is shaping up to be one of the biggest yet!
Between browsing the booths, attending a few talks, and participating in professional development courses, there's enough to keep even the most seasoned electronics industry experts busy. Plus, the ProEx team will be there to showcase everything we have to offer in offline device programming services.
Read on to learn why you need to get your ticket to this event today!
What Is the IPC APEX Expo?
The IPC APEX Expo is North America's must-attend trade event for the electronics manufacturing industry. In 2023, it will be held at the San Diego Convention Center, with meetings and courses running January 21st-26th and the exhibition itself running the 24th-26th. There is also a conference component.
Attendees can expect to interact with all kinds of electronics providers, from PCB fabricators and designers to OEMs and EMS companies.
Sectors in attendance include:
Aerospace

Automotive (including recreational)

Communications infrastructure

Consumer technology

Defense

E-textiles

Energy

Medical

Construction

Mining

Agriculture

Semiconductor
Many electronics companies wait to launch their most cutting-edge new products and services at IPC APEX every year. So, with such a packed turnout, you're sure to experience the latest B2B and B2C innovations across the breadth of the industry.
IPC E-Textiles 2023 is also running conjointly with the APEX Expo. This unique international conference is held for just one day, on 23rd January. It combines an industry conference, including IPC E-Textiles Committee standards meetings, with professional development courses on e-textiles and wearable electronics.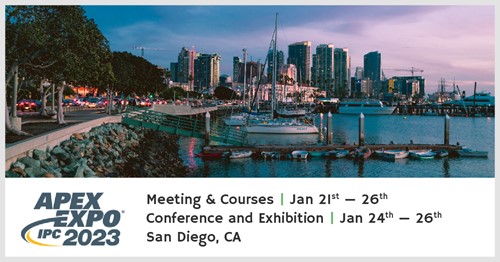 Why You Should Attend
IPC APEX Expo is the biggest electronics industry expo in North America. Take advantage of this reputation to showcase your products and services to the right audience.
Network With Industry Leaders
The show organizers provide attendees with plenty of networking opportunities, from simply walking the aisles and checking out the booths to attending meetings and specialist networking events.
IPEC APEX Expo has been around since 2001 and was named among the fastest-growing trade shows in 2012, 2013, 2016, 2017, and 2018. This unrivaled longevity at the top of the B2B expo game ensures it attracts the best in the industry.
Expect to rub shoulders with employees from 3M, Boeing, Foxconn, Panasonic, Siemens, Texas Instruments, and the U.S. Army Aviation & Missle, among many others.
Dive Deep Into the Latest Industry Trends
Don't limit yourself to only checking out booths. In 2023, the IPC APEX EXPO Technical Conference covers subjects like "factory of the future," PCB fabrication, QC innovations, and High-Density Interconnects and Microvias.
Keynote speakers include:
Shawn DuBravac, Chief Economist, IPC

Emily Calandrelli, Mechanical, and Aerospace Engineer

John W. Mitchell, President, and CEO, IPC
There's also a range of professional development courses that aim to equip participants with the real-world skills necessary in this rapidly changing industry. Attend a presentation to learn how to boost operational efficiency and learn strategies to adapt to future technological innovations in electronics manufacturing.
Showcase Your Products and Services
Of course, one of the main reasons the electronics manufacturing industry flocks to the APEX Expo every year is the chance to show off what they've been working on.
There's a range of booth sizes and locations to choose from (though you have to be quick to snap up the most heavily foot-trafficked locations), and exhibitors have the chance to design their booths in whatever way they feel will stand out most. Outside of booths, there are affordable online and offline advertising opportunities to take advantage of.
Plus, you get the rare chance to check out the competition up close and personal.
Additional Promotional Opportunities
Companies that sign up as exhibitors don't just get a booth, though that's already an attractive proposition. There's an enormous amount of additional promotional opportunities you can take advantage of before, during, and after the expo.
These include access to comprehensive marketing collateral like:
Conference brochures

Press releases

Email blasts

Online catalogs

Direct mail

Social media

Web banners and ads

Advertisements and articles in industry publications
You'll also get unlimited electronic VIP passes and e-brochures to distribute to your networks, encouraging them to attend at least virtually. This is a bonus for clients and peers who can't make it to the venue.
Finally, there's the opportunity to become an exclusive advertiser or sponsor and boost the number of eyeballs on your company or brand.
The ProEx Booth: What to Expect
ProEx is attending IPC APEX Expo in 2023, and you can find us at booth #1532. Visit our team for a ProEx presentation that shares all the benefits of working with us.
These include:
Affordable services

Quick turnaround times

Highest quality offerings in the industry 

Broad device and file format support
You'll also get the opportunity to find out more about our precision tape and reel and custom tooling services. Let us show you why we're committed to offering offline programming that saves time and money.
Meet the ProEx Team and Learn More About Our Services
The IPC APEX Expo is one of the must-attend events on the global electronics industry calendar.
If you haven't secured a booth space, signed up for one of the many conference or educational options, or purchased a ticket, there's still time! Check out the expo website for more information on how to register. Between the expert talks; and the over 300 booths to browse, you won't regret the investment.
Once you get there, stop by the ProEx team booth (it's #1532)! Our team will be ready and waiting to show you our extensive device programming service options. 
Want to chat right now? Give us a call today!