Our Automated High-Volume IC Programming Capabilities
The global technology market is worth around $777.28 billion, making it one of the largest industries in the world, and it's projected to grow 11.2% each year between 2022 and 2030.
IC programming is an imperative process that helps make modern electronic equipment run. ProEx's high-volume, high-speed programming is a necessary tool in many industries that seek to innovate and boost any automated operation. Read on to learn all about our IC programming processes.
What Is IC Programming?
Integrated circuit (IC) programming is the hub of most modern technology. During the programming process, an IC programmer will flash written software onto an IC chip. This software is implanted into a larger device and serves as a microcontroller for the electronic product.
What is an IC microcontroller? You may want to think of it as a mini-computer. However, they're so small that in some cases, they're microscopic! These microcontrollers run because of pre-programmed IC chips that make the product move with high performance.
How Does IC Programming Work in Electronics Manufacturing?
The written software flashed onto an IC is created with code. This code comes in the form of a programming language.
Written software on IC chips can come in several different programming languages. The top IC manufacturers will accept various file formats that make IC chips function. 
There is virtually no limit to what the programming can command. However, because there are limits to what the device is capable of, you will need to ensure that your automated programming system is sustainable within the technology it's operating.
Once the integrated circuit is coded to perform the operations you intend it to do, experts install it in the equipment you are building. This equipment can range from tiny toys to fully-automated, large-scale devices.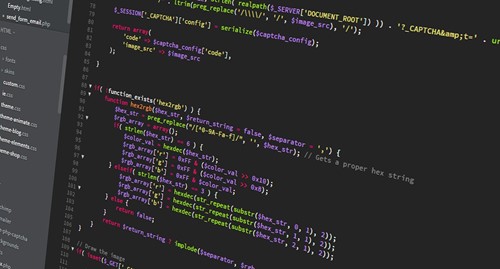 What Markets Require IC Chip Programming?
IC chips' are very versatile, so they are programmed for essential activities in a variety of markets including:
Automotive technologies

Medical devices and equipment

Thermometers

Printers (both large-capacity printers and smaller commercial printers)

Guitar pedals (in the music industry)
There are several applications in that programmable IC chips can be used. They include:
Power tools

Engine control systems (for cars, heavy machinery, and more)

Implantable devices (such as SIM cards)

Toys and gaming systems

Consumer electronics (computers, smartphones, etc.)
ProEx aims to create, optimize, and deliver IC chips for all industries and operations. Our programming process can take anywhere from one second to half an hour, given your specific applications and needs.
How Does ProEx Program IC Chips?
ProEx is an ISO Certified and ITAR-registered company. We take all steps necessary for the best possible programming service. Quality is our mission, and we are committed to creating top-notch technologies at a competitive price.
But how exactly do we program IC chips that achieve the maximum throughput by units per hour? 
Our IC programming services are extremely quick and efficient. They take place offline to reduce the overall cost of creating a working IC chip. The result is a fully automated chip that perfectly fits within your pre-existing computer circuit.
Top Benefits of Working With ProEx
There are many advantages that ProEx offers that set us apart from our competitors. Affordable, no-frills service is one of the best. We allow you to save money when IC programming in two distinct ways:
Outsourced programming that does not require in-house professionals and inefficient, poorly-managed processes

Competitive service pricing because of offline programming
However, saving money is far from the only reason to work with ProEx. Our high-quality service offers support for many different applications. The sky's the limit when it comes to IC-chip-supported devices. We're trained in versatile programming needs so we can effectively assist all clients.
Fast service is another great reason to work with ProEx. We offer rush and same-day services despite our average order turnaround being three business days. Not only will we program your IC chips during this time, but we also will assemble circuit boards with top-notch tape and reel services.

A Holistic Service
Programmed IC chips usually need to be embedded very precisely into a small circuit board or device. Because ProEx is committed to meeting all client needs, we offer tape and reel services that lay components precisely on final products. These components include the tiny IC chips that we program with your code.
Our custom tooling methods don't just ensure a short turnover time, but also mean that you don't need to worry about product defects. Our methods ensure top quality, as are our automated systems scans for quality control. In the unlikely event that we find an error with our tooling, we will make it right before you receive your final product.
Key Takeaways:
Integrated circuit (IC) programming is the hub of most modern technology.

IC chips are used in applications such as; automotive, medical, consumer electronics, power tools, and more!

Our programming services take place offline to reduce the overall cost of creating a working IC chip. 

ProEx also helps you save money by allowing you to outsource the programming as opposed to hiring an in-house team. 
Talk to Our IC Programmer Production Line Today
IC programming can sound like a daunting task, but it's simple, seamless, and speedy when you work with ProEx. Our experts are committed to programming your chip in any language you need. Quality is our guarantee, so we won't leave you hanging with poorly-programmed chips or unusable devices.
We're happy to answer any lingering questions that you have and give you an estimate for your specific needs. Request a quote for your project, and begin your ProEx experience today!